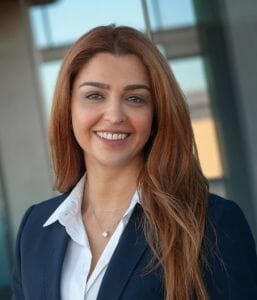 Elnaz Masoom, Chairwoman
Managing Attorney and Founder, Masoom Law Firm P.C.
2023-2024 Board Chair
Dear Members, Friends, and Valued Partners of the Chamber,

It is with immense honor and privilege that I address you as the newly elected Chair of the Board of Directors for the upcoming year, 2023-24. As the first woman of color to assume this position, I am committed to amplifying the potency of our diverse and innovative community.  I will be drawing from my extensive background as an entrepreneur, trial lawyer, advocate for business growth and social justice. Through this, we will ignite innovation and dynamism across all our endeavors.

My pledge is resolute: to serve our organization and the expansive spectrum of our community with unwavering dedication, foresight, and inclusiveness. Our mission—Educate, Advocate, Connect—remains at the forefront of my leadership. The irreplaceable contributions of our distinguished board members, coupled with their sagacity, networks, and unflagging commitment, will play a pivotal role in charting our course to triumph and the realization of our common objectives. Notably, I am honored to lead alongside our newly appointed woman of color CEO, Harbir K Bhatia. This marks a historic juncture in our leadership, underscoring the progress we are making as a community.

Collectively, we will channel our efforts towards cultivating a thriving business milieu. We aspire to inaugurate groundbreaking initiatives, passionately advocate for small enterprises, nurture the spirit of entrepreneurship, and cultivate robust collaborations and partnerships. I extend an earnest invitation to each of you to actively engage in shaping our future. Let us embrace open dialogue and diverse perspectives as we forge a trajectory that yields advantages for us all.

With your unwavering backing, we are poised to craft a business community that thrives on inclusivity. Our Chamber of Commerce is committed to mirroring the rich tapestry of our community. Thus, we are creating pathways that welcome entrepreneurs from all walks of life. Collectively, we will construct a future characterized by fortitude and prosperity.

Thank you for this incredible opportunity.

Elnaz Masoom

Chair-Woman of the Board

Silicon Valley Central Chamber of Commerce
"We are especially focused on helping businesses get back on their feet and prosper"