As The Business Chamber in Silicon Valley, the SVC Chamber is often featured in the press and asked our opinions on matters of great importance.
We also have a mission to Educate.
The combination of these two allows us to be able to present the following:
Indian American CEO of Silicon Valley Central Chamber of Commerce Harbir Bhatia leads 'Festival of Lights' celebrations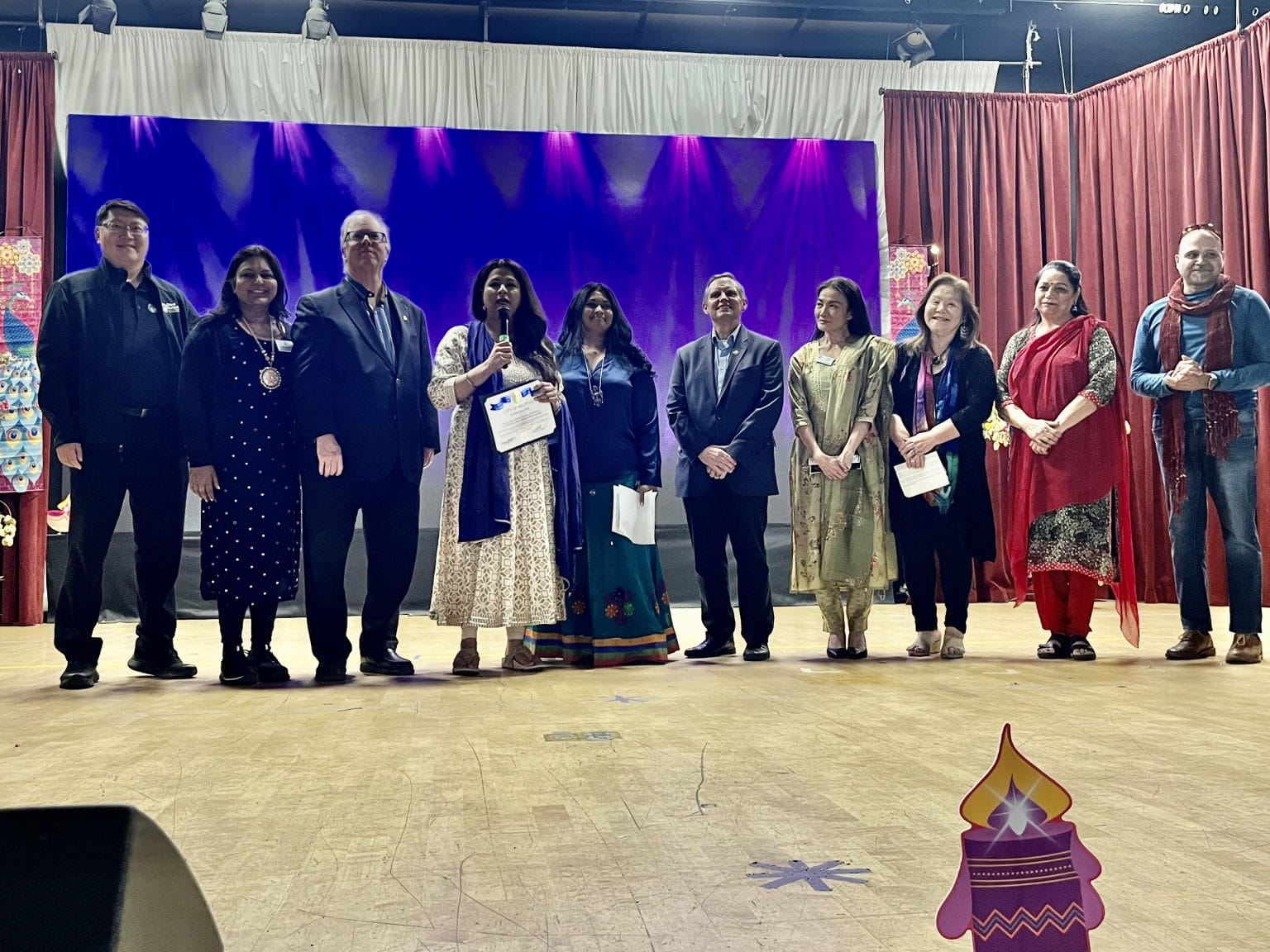 November 1, 2023
Ritu Jha–
Indian American Harbir Bhatia, who took over as CEO at the Silicon Valley Central Chamber of Commerce in June this year wanted to reach out to the community and help promote small businesses says the primary goal of hosting the "Festival of Lights" was first to celebrate a very important festival and holiday for a significant portion of the Silicon Valley. In addition, it was to foster community unity, celebrating diversity and inclusion while showcasing the strength of our local businesses and the overall local economy.
Diana Ding wins 2023 Santa Clara Citywide Community Award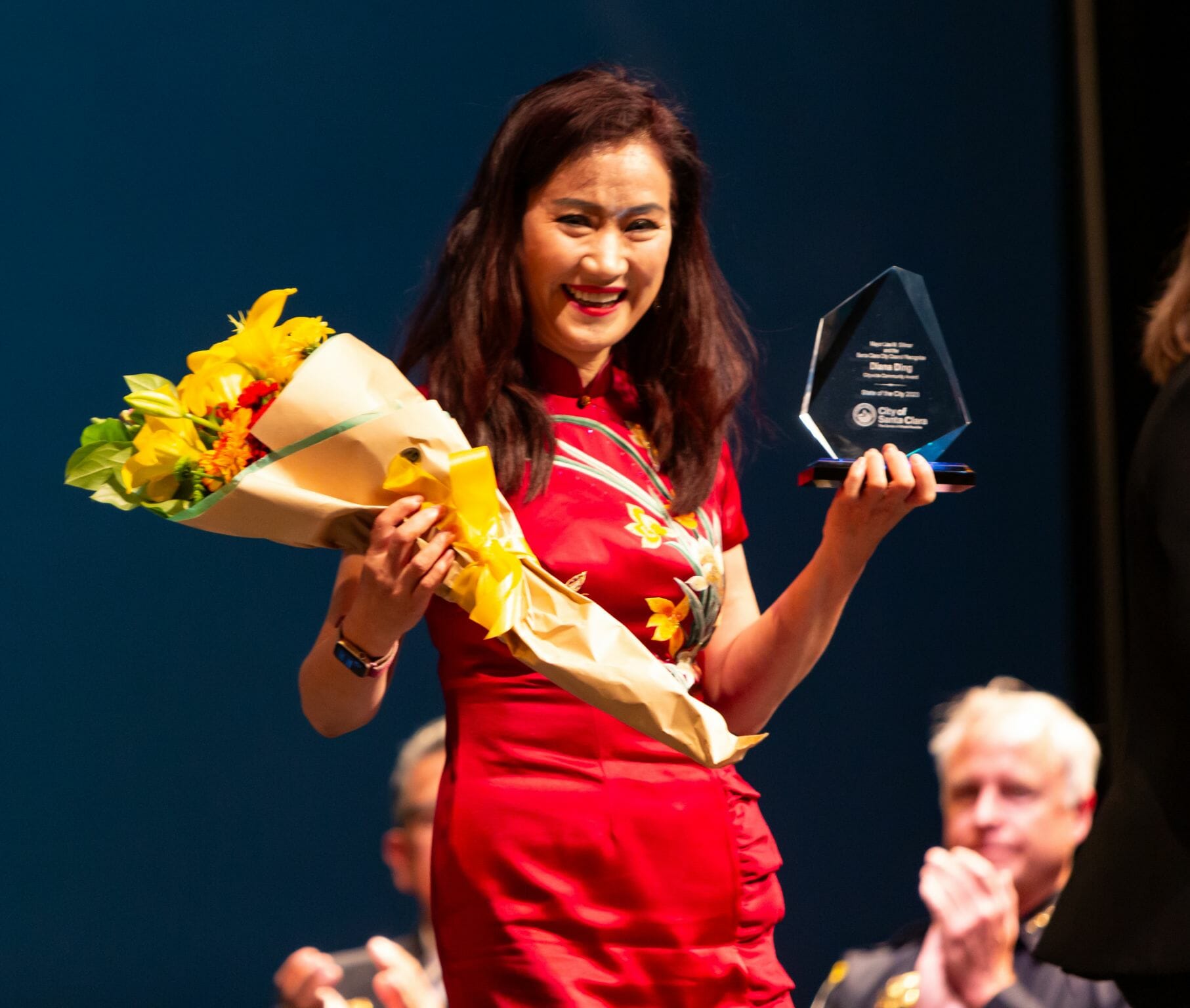 Diana Ding, a valued member of our board of directors and the visionary behind Silicon Valley Community Media and Ding Ding TV, received the Citywide Community Award in recognition of her steadfast dedication to the community, particularly during the pandemic, and her advocacy against Asian discrimination.
Santa Clara's Harbir Bhatia Receives World Peace And Understanding Award
Bhatia was presented this year with the annual Carl G. Orne World Peace and Understanding Award by Rotary District 5170, comprising 61 local Rotary clubs in four counties.
"Harbir Bhatia is an uncommon human being and outstanding Rotarian," said Savita Vaidhyanathan, 2022-23 Rotary District 5170 Governor.
"When the invasion of Ukraine happened, we [the Rotary] expressed empathy and did several fundraisers. But if there was ever a person who acted with speed, efficiency, compassion, and more importantly, with utmost courage and dedication, it was Harbir Bhatia," said Vaidhyanathan.
"She led several missions to help the hapless war victims in Ukraine with medical supplies, food, winter clothing, etc. Often putting her own life at risk, she served relentlessly," continued Vaidhyanathan. "She was honored with an award by the military in Kharkiv, Ukraine, for her bravery. Helping Ukraine was not enough. She also went to Syria and Turkey to help with 2023 earthquake relief efforts."
"This has been such a fulfilling experience in my life. I have felt so much happiness during this work over the last 18 months," Bhatia said.
Press Release: Dynamic new CEO for the SVC Chamber represents the future of Silicon Valley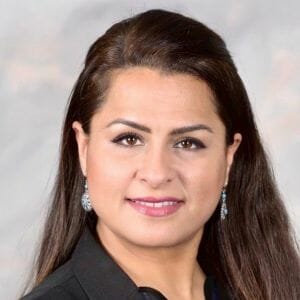 August 29th, 2022
SVC Chamber Of Commerce Announces Harbir K Bhatia As New CEO
Santa Clara, CA— The Silicon Valley Central Chamber of Commerce (SVC Chamber)
Board of Directors recently announced Harbir Kaur Bhatia as the chamber's new CEO and president.
"I am honored to serve with the SVC Chamber board and Silicon Valley community,"
said Bhatia. "My goal is to ensure that the SVC Chamber continues to create value and
is responsive to the changing needs of the times. Today's economy demands leaders
who are innovative with a diverse background, collaborative, inclusive and have a
service mindset. With our amazing chamber board, staff and partners, I believe we can
work together to shape the future of Silicon Valley as a thriving community for all."
SVC Chamber Celebrates Past With Optimism For Future
..."It's all about supporting businesses," said Board Chair and "kitchen manager" John Elwood.
"The anniversary reminds us about the importance of not only saying what we're going to do but then going out and doing it," Elwood said. "Over the last two years we've been learning how to go forward in spite of COVID, and it's important now to put those lessons to work in building regional cooperation and promoting the identity of South Bay businesses."...
Santa Clara Head Tax Arguments: Local Businesses and Restaurants Oppose Increase
...Opponents who signed the arguments are:
Christian Malesic, CEO, Silicon Valley Central Chamber of Commerce
Teresa O'Neill, Boardmember, Silicon Valley Central Chamber of Commerce...
49ers Faithful: Preseason Opener Exciting for Fans, a Boon for Business
..."People are going out. They're enjoying themselves, they're having a good time. But economically, they're spending money," said Christian Malesic, CEO & president of the Silicon Valley Central Chamber of Commerce....
...That economic charity extends to area hotels, according to Malesic.
"Some people are coming from out of town. So they're enjoying our amusements and other entertainment. So helps all of the businesses in the local area," he said....
Will Santa Clara Voters Approve a Headcount Tax for Businesses?
..."Although we appreciate Santa Clara city staff and councilmembers for involving us in the process, the model that passed council was developed and presented just 24 hours prior to the vote; thus, was not properly vetted," [SVC Chamber President/CEO Christian] Malesic told San José Spotlight on Wednesday. "In the rush to 'do something', the final, green-lit huge tax increase on business that will be on the November ballot was not thoroughly reviewed, analyzed or debated."....
Santa Clara City Council: Business Tax Increase Set For November Ballot
July 13, 2022
...Still, small business owners as well as the Chamber still opposed the hike, saying it places an undue burden despite the subsidy the City proposed.....
Santa Clara City Council Puts Major Increase in Business License Head Tax on the November Ballot
July 13, 2022
The Santa Clara City Council put a major increase on the business license tax. It hasn't been raised since 1992...
The Silicon Valley Central Chamber of Commerce opposes the tax.
"The economy is in a difficult place right now," said Chamber President and CEO Christian Malesic. "We don't know if there's going to be a recession."
He offered to work with the City to find an increase that would be less harmful to Santa Clara businesses and wait for the 2024 ballot....
Proposed Business Tax Measure Not 'Business Friendly,' Council Says
July 6, 2022
...At its Tuesday night meeting, the Council opted to delay a new business license tax and approved another tax that would transfer utility revenue to the general fund....
...Similarly, Christian Malesic, President and CEO of Silicon Valley Central Chamber of Commerce, called the hike a "super hyper progressive" tax, one that will make Santa Clara the least business-friendly environment in the valley....
UPDATE: Santa Clara Delays Putting Business Tax Before Voters
July 5, 2022
Santa Clara leaders are holding off on putting a business tax before voters in order to allow for more input from a local business group.
The City Council voted unanimously Tuesday to wait until July 11 to vote on placing a measure on the November ballot....
...The Silicon Valley Central Chamber of Commerce opposes a headcount tax which targets the largest locally-based companies, its leaders said in June.
President and CEO Christian Malesic told San José Spotlight the chamber would rally against the headcount proposal because such increased tax costs could chase away companies that bring much-needed jobs to the city. He said the chamber presented city officials with alternatives to address the budget deficit in April and May, such as a smaller tax increase that no more than doubles the current amount of revenue....
California's Great America Amusement Park is Changing Hands; Future Uncertain
Silicon Valley Business Group Opposes Proposed Headcount Tax
June 21, 2022
Santa Clara could ask residents to approve a business tax overhaul in November, despite opposition from regional commerce leaders. If passed, it could bring in millions.
The Silicon Valley Central Chamber of Commerce sent a letter Monday to Santa Clara's mayor and City Council opposing any "dramatic increase" in the business license tax companies pay....
...Silicon Valley Central Chamber President and CEO Christian Malesic said such a proposal would cause a "nearly 700% increase" in taxes for the largest locally-based companies. He said the business community opposes any tax increase based on this formula for any company in Santa Clara.
"We would hope we could work with the city at this point before there is a vote,"....
Silicon Valley Central Chamber of Commerce Opposes Santa Clara Employer Head Tax
June 21, 2022
The Silicon Vally Central Chamber of Commerce has come out against an employer head tax in the Mission City.
"We are opposed to an employee head tax because we think it will have a detrimental effect on economic development and hurt the City of Santa Clara's reputation for being a business-friendly city," the Chamber's President/CEO Christian D. Malesic wrote to the Mayor and City Council in a June 18 letter.
"A head tax is also difficult to administer and monitor, especially when many companies are allowing their employees to work remotely."
Malesic also said that the Chamber "opposes any dramatic increase in the Business License Tax, such as the nearly 700% increase that is being proposed. Similarly, we oppose any harmful tax on small and medium-sized businesses."....
Santa Clara Sees Coldplay Perform Past Usual Curfew
May 16, 2022
A crowd of 50,000 Coldplay fans reveled at a Sunday concert at Levi's Stadium in Santa Clara—later than usual.
In November, the Santa Clara City Council voted to allow an exception of five events to its noise ordinance ban at Levi's Stadium....
...Christian Malesic, CEO of the Silicon Valley Central Chamber of Commerce, told San José Spotlight concerts returning to the stadium will help rebuild the economy, especially the tourism segment, which was decimated during the pandemic. Malesic said Santa Clara lost tens of millions of dollars due to county pandemic-related guidelines and the noise ordinance, but hotel and restaurant owners told him business was booming last weekend.
"It's exactly what we need to help bring that segment and really the whole economy in the valley back," he said. "Any time there's something like a concert or a game, that tends to positively affect all the local venues, including restaurants and bars."...
Santa Clara Developer Scales Back Project Plans
March 29, 2022
Mission Point is a proposal to build a new mixed-use neighborhood by developer Kylli at 3005 Democracy Way in Northern Santa Clara. It was first submitted in 2019 after collecting feedback that began in late 2017...
...Santa Clara has a number of large redevelopment projects that are going to reshape the whole north side of the city, said Malesic, who lives on that side of the city. The projects will change habits of separating work, home and recreational areas. Residents won't have to commute long distances and be far away from parks.
"We really are shaping the city of the future," he said. "We're ecstatic as a chamber."...
February 4, 2022
The City of Milpitas will be providing $5,000 grants to small businesses that have been negatively impacted by Covid-19.
The SVC Chamber is proudly partnering with the City of Milpitas and Livestories to provide assistance.
Click the button to read from The Milpitas Beat to learn more about the grant.
City of Milpitas Providing $5,000 Grants to Small Businesses
November 2, 2021
Silicon Valley. It is a place? A REAL PLACE you can visit?
Or, is it a state of mind? Is it just phraseology for technological advancement, growth, entrepreneurship, and positive disruption?
The answer is to all of these questions is YES! This… is Silicon Valley.
It's all here:
Vacation here.
Hold a corporate meeting, conference, symposium, or exhibit here.
Join the fastest moving and growing Chamber of Commerce.
SVC Chamber on ABC7 Midday Live – The Difference
September 21, 2021
Airing on on the popular afternoon lifestyle show Midday Live on September 14, 2021. ABC7 KGO's Kara Tsuboi asked "What makes the SVC Chamber Different?" (and many more questions).
Christian Pellecchia, 2021-2022 Board Chair, and Christian D. Malesic, President & CEO, teamed up to do the SVC Chamber proud. They spoke on the value proposition, the uniqueness of the SVC Chamber, and how it helps businesses to be better at business tomorrow than they were today.
The Economy that is Silicon Valley
August 12, 2021
What is Silicon Valley? Is it a place or and idea? Or, both? And, how did it get it's start? Why is it in the news all of the time? How is the economy of the world affected by this place called Silicon Valley?
The President / CEO of the Silicon Valley Central Chamber, Christian D. Malesic, explains the region, the history, and the current mindset that makes this place one of the most dynamic, interesting, and prosperous areas on the planet.
"Silicon Valley" is an episode of August 12, 2021 by independent YouTube producer, Roland Enz, the founder of Enz USA TV.
The Changing Retail in Silicon Valley
May 14, 2021
As part of the Silicon Valley Educates series, this webinar was held on May 14, 2021.
Retail has changed drastically in the last 50 years. Disruption is coming faster than ever. There has been more change in the last 10 years than the previous 40. And, we will experience even more acceleration in the next 5 years with local governments considering zoning and building changes. This webinar will cover many facets of the future of retail in the valley.
Innovation Dialog with SVC Chamber's CEO Christian D. Malesic
February 25, 2021
Who is Christian D. Malesic, why he is so passionate about Silicon Valley Central Chamber of Commerce? Ding Ding TV's Diana Ding sat down with the Silicon Valley Central Chamber's new President/CEO, for their branded show Innovation Dialog on February 25, 2021 to hear more about his background and his vision for the Chamber.