History of Santa Clara, CA
In 1777, Franciscan priests selected what is now known as the City of Santa Clara to establish Mission Santa Clara which was named after Saint Clare of Assisi, the sister of the better-known Saint Francis of Assisi. At that time, the Ohlone natives, previously known as Costanoans, would be brought to the Mission for compulsory baptism and conversion to Christianity. In 1936, control of the mission was taken from the Catholic Church and given to the civil commissioners. Santa Clara, incorporated in 1852, began as a humble town built around Mission Santa Clara with an economy centered on agricultural.
By the 1960s, an incredible transformation began with the emergence of the semiconductor industry. This transition and emergence of the technology industry has made Santa Clara the heart of Silicon Valley where some of the world's largest businesses are headquartered.
The Silicon Valley Central Chamber of Commerce was previously know as the Santa Clara Chamber of Commerce.
The Santa Clara Chamber of Commerce was incorporated in State of California on May 23, 1947.
The purpose of the organization was specifically stated:

To promote, exploit, advertise, and make known the City of Santa Clara and its resources, and the benefits and advantages of residing, trading, and doing business within the City of Santa Clara.
To invite and persuade businesses, factories, commercial & industrial firms, corporations, and organizations to locate and do business in the City of Santa Clara.
To promote harmony & good will among the merchants & business firms in the City of Santa Clara and to do any and all acts & things for the best interests & advantage of the various commercial organizations and all citizens & residents of the City of Santa Clara.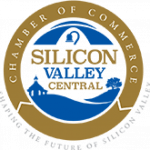 After almost a century, only one thing has significantly changed since our founding. On June 17, 2019, the Chamber officially changed its name to the Silicon Valley Central Chamber of Commerce (or SVC Chamber, for short).
The name change reflected a unanimous decision of the Board of Directors that the name of the organization should represent the true mission, operations, and territories that the Chamber had been servicing for many years. The Chamber was not representing only the City of Santa Clara but the much larger region of the County of Santa Clara and beyond – a region more affectionately and popularly called Silicon Valley.
BOARD CHAIRS:
(The normal term of a Board Chair is from July 1 to June 30 of the following year.)
2022-2023:

John Elwood

2021-2022:

Christian Pellecchia, Resigned Early

2020-2021:

 

Ravinder LaL

2019-2020:

 

Chris Boyd, Resigned Early

2018-2019:

Jan Eric Nordmo

2017-2018:

Joe Siecinski

2015-2017:

Paul Dines

2014-2015:

Joe Sweeney, Resigned Early

2013-2014:

Elizabeth Williams

2012-2013:

Doron Noyman

2011-2012:

Christopher Citti

2009-2011:

Jean-Philippe (JP) Rollet

2008-2009:

 

Barbra Ratcliffe

2007-2008:

 

Maria Edmonds-Zediker

2006-2007:

Bobert Ricks

2005-2006:

Roy Truitt

2004-2005:

David Tobkin

2003-2004:

Gary Matthews

2002-2003:

Eddie Roundtree

2001-2002:

Dick Johnston