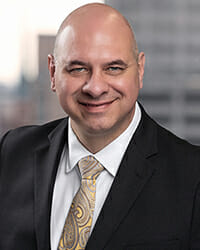 Christian has over 10 years in Chamber & Association management. Prior to becoming a not-for-profit executive, he was a for-profit executive and an U.S Air Force Officer.
He received his MBA (Master of Business Administration) with distinguished honors from Shippensburg University of Pennsylvania plus three Bachelor Degrees in Electrical Engineering (BS) & Government (Political Science) (BA) from Lehigh University, and Business Administration with a Concentration in Marketing (BS) from Elizabethtown College.
He is a Certified Association Executive (CAE), as conferred by American Society of Association Executives (ASAE), a Certified Meeting Professional (CMP) as conferred by the Events Industry Council (EIC), & is a graduate of the prestigious Institute for Organizational Management (IOM), the most highly respected program nationwide for Chamber & Association management.
Domarina has been with the Chamber since January 2017. Though she has been in different roles with various titles, her skills lend nicely to serving as the glue that keeps the Chamber together and running smoothly - as the Office Manager.
She attended San Jose City College and is currently attending Mission College majoring in Criminal Justice.
Director of Communications
Sarah delivers compelling business copy, consistent editing, and meticulous proofreading. She has extensive expertise in researching, writing, editing, and proofreading content for websites, brochures, advertisements, newsletters, marketing campaigns, press releases, media alerts, branding playbooks, crisis communication plans, blogs, and more.
She holds a Bachelor of Arts in English from San Jose State University and a Technical Writing Certificate from San Jose State University.
Public Relations & Social Media Coordinator
Diandra is a Corporate Communications expert who excels in developing marketing skills, working with dynamic teams, and presenting new tools & processes.
She holds a Bachelor of Business Administration with a concentration in Marketing & Management from Chapman University where she was recognized by the Gamma Beta Phi Honor Society and served as its Chapter President.
Communications & Graphic Design Coordinator
Mary is an experienced graphic designer and marketing specialist. She has worked with clients across industries providing strategic, creative campaigns through intentionally designed web, print, and digital content.
She is a graduate of California State University - Northridge with a Bachelor of Science in Marketing.
She is a 3-time 2021 Communicator Awards recipient at the Silver Award level for Web Design and received a Gold Award in the 2020 Hermes Creative Awards in the Print & Web Campaigns category.